Welcome to Courtyards in Cityplace
The Courtyards in Cityplace with Shopping and retail at your fingertips!
Courtyards in Cityplace
The Courtyards in CityPlace is located at The Square in
Downtown West Palm Beach
and offers a lifestyle with access to high-end retailers, specialty boutiques, dining options, a 20-screen movie theater, The Kravis Center for the Performing Arts, The Dreyfoos School of the Arts, and the Harriet Theater. Located in West Palm Beach, in the heart of the downtown area, these three buildings are separated by lush garden courtyards that offer a private, relaxing retreat. Internationally renowned artist, Leonard Pardon has captured the lush elements of the Florida tropics and created hand-painted frescoes that speak of colorful scenes of spraying fountains and lush greenery. These frescos enhance The Courtyards at CityPlace interior hallways and porticos. Other amenities include a screening room, a business center, a fitness center, a pool area with wireless internet service, and Teak poolside furniture.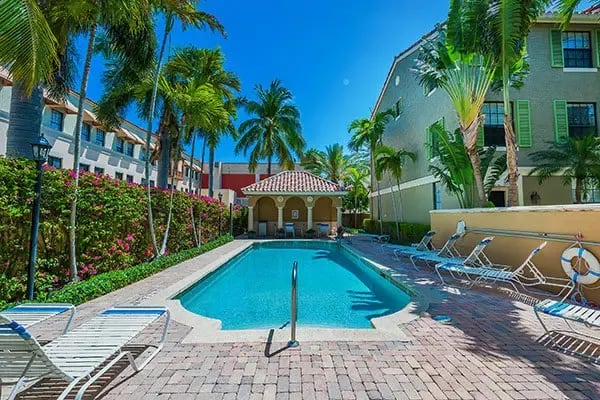 Courtyards in City Place
Courtyards in City Place are three buildings separated by lush garden courtyards that offer a private, relaxing retreat. The condo building offers 1, 2, and 3-bedroom units. Some Key Features of Courtyards in Cityplace West Palm Beach are:
Located in the heart of Downtown West Palm Beach at The Square

Walking distance to groceries, shops, and dining

Units are available for sale and rent